A few months ago I posted a recipe for a
Triple Chocolate Trifle.
That post contains my recipe for chocolate pudding, which I mentioned is awesome by itself. It is so easy to make, and I usually make it on Valentine's Day, especially since it's gluten free.
The recipe stays the same, but to make it "Triple chocolate" I add chocolate milk instead of just plain milk. In fact, I use my favorite Promised Land Dairy Midnight chocolate milk. It's so so so yummy! When the boys were little we used to take them to the dairy and so it holds a special place in our family memories.
For the boys and hubs, I also baked brownies. To jazz them up for Valentine's Day, I put them in the freezer for about 20 minutes after they were cool. I then turned them out of the pan onto a cutting board, and used a little heart shaped cookie cutter to make the heart shapes. Easy peasy! The chocolate pudding is topped off with whipped cream and a chocolate covered coffee bean. Not too much effort goes into this dessert, but the cute little martini glasses for desserts sure add that elegant touch! I hope my boys fill spoiled!
In case you are staying in this holiday, I thought I would list my top 5 Romantic movies. Not all are sappy happy movies, but they all seem romantic to me. Enjoy!
1. Roman Holiday—It doesn't get more classic than this.
2. Becoming Jane — The cinematography gets me every time. I've heard it's pretty stretched on the truth, but I don't care. It puts all of Jane Austin's books into perspective.
3. The Painted Veil — Again, the scenery overwhelms me, and the story reminds you that love isn't always nice and simple like some books tell you.
4. Life is Beautiful — So hard to watch, but everyone should watch at least once. A story of a parent's unending love.
5. Sense and Sensibility — Jane Austin on the screen. My husband and I still quote the movie. We often say, "I can not deny I greatly esteem him!". In our family, "Greatly esteem" is the highest form of love.
Have you seen all of these? What do you think? What movies would you recommend?
Happy Valentine's Day to my sweet readers! You are all the best!
I'm linking up to these parties, be sure to stop by and see all the fun stuff!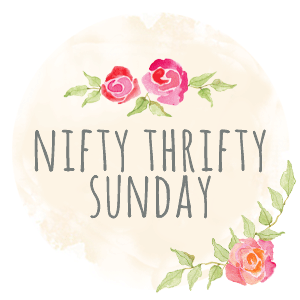 http://www.niftythriftythings.com/nifty-thrifty-sunday-143/#
http://denisedesigned.com/2014/02/15/share-sunday-15/